Introducing Dream Decoder Dictionary: Discover the Meaning of Symbols from Real Dreams
Dream Decoder
Dream Decoder
About two week ago, we add the symbol extraction on Dream Decoder. Today we are thrilled to unveil our latest endeavor, the Dream Decoder Dictionary! 🚀 This companion website is designed to empower you with a wealth of knowledge about the symbols that appear in your dreams, helping you explore the depths of your subconscious mind and discover the hidden meanings within.
At Dream Decoder, we've always been passionate about helping you understand your dreams better. Our main website, dreamdecoder.me, has been providing a unique platform where you can chat and discuss your dreams with our AI, receiving personalized insights and interpretations. We understand that dreams can be puzzling, and one-time interpretations may not suffice. That's why we've taken a step further to create Dream Decoder Dictionary, an extensive repository of articles dedicated to exploring the symbols found in your dreams.
🔍 Unveiling the Dream Decoder Dictionary: dict.dreamdecoder.me
Dream Decoder Dictionary aims to be your go-to resource, housing in-depth articles about various dream symbols extracted from your dreams shared on Dream Decoder. With our AI-powered research capabilities, we've curated comprehensive articles that delve into the historical, cultural, and psychological significance of each symbol. Whether it's a recurring image, an intriguing object, or a vivid location, our dictionary will unravel its meaning and potential implications for your waking life.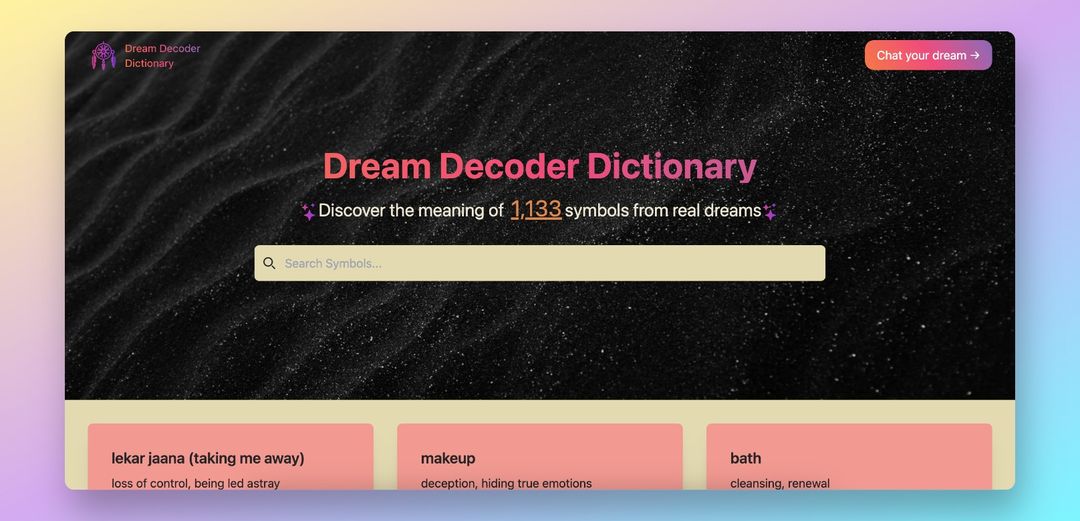 📖 Discover the Meaning of Symbols from Real Dreams
Our slogan for Dream Decoder Dictionary encapsulates our mission: "Discover the meaning of symbols from real dreams." Each article is drawing from real dream experiences on Dream Decoder. As we believe that dreams are highly personal, these articles are designed to respect the nuances of individual experiences while offering valuable insights into the broader symbolism.
🤝 A Seamless Integration with Dream Decoder
We have worked diligently to ensure that Dream Decoder and Dream Decoder Dictionary seamlessly complement each other. After discussing your dream with our AI on dreamdecoder.me, you can now explore related symbols and gain deeper insights on dict.dreamdecoder.me. It's an immersive journey into the realm of dreams, as you unravel the enigmatic messages your subconscious mind sends your way.
🚀 Join Us on This Journey of Self-Discovery
We invite all dream enthusiasts and curious minds to join us on this exciting journey of self-discovery through Dream Decoder Dictionary. The more we understand our dreams, the more we learn about ourselves and the world around us. Together, let's embark on a path of unraveling mysteries, unlocking hidden truths, and fostering personal growth.
Visit dict.dreamdecoder.me today and dive into the fascinating world of dream symbolism. Discover the profound connections between your innermost thoughts and the tapestry of your dreams.
Chat your way to better understanding your dreams on dreamdecoder.me, and then, let Dream Decoder Dictionary guide you to discover the meaning of symbols from real dreams.
Sweet dreams and happy exploring!
---